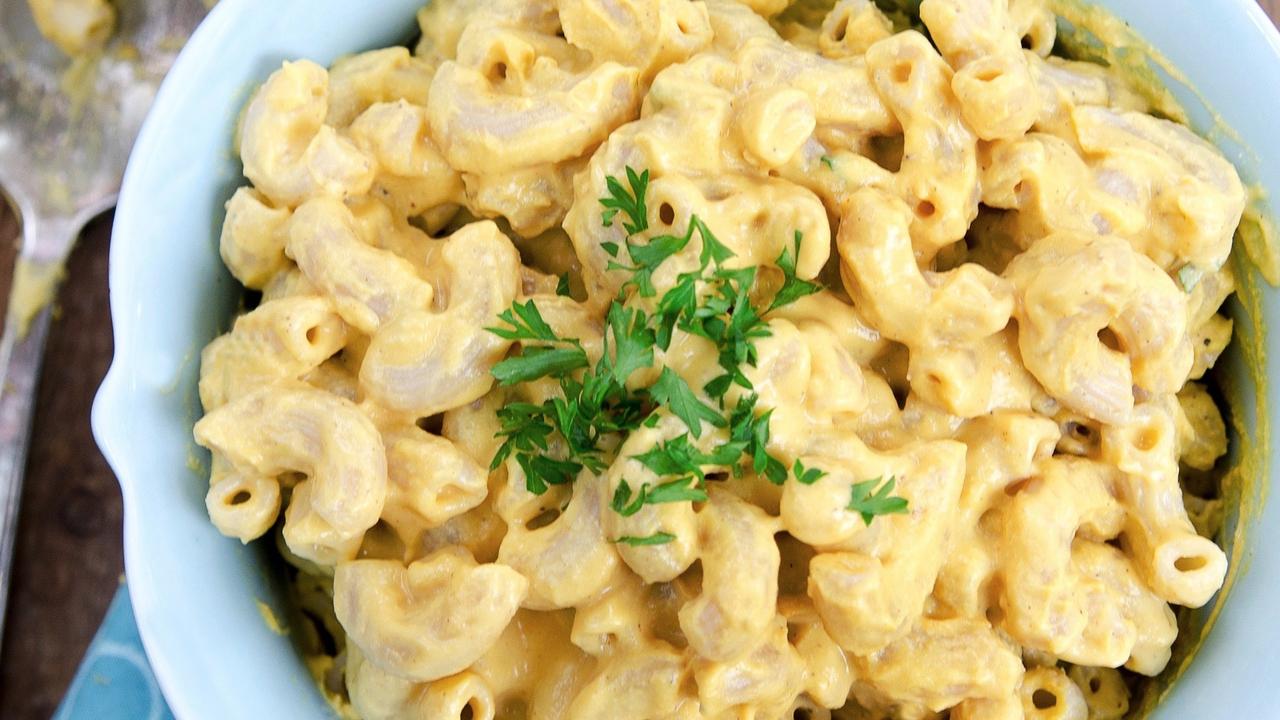 Allison's Famous Vegan Mac 'n Cheese Sauce
The now-famous vegan Mac 'n' Cheese I developed in 2008 has thrilled vegans, surprised omnivores, and inspired countless variations. The original version was created many years ago by my friend and prolific vegan author, Jo Stepaniak. When I put my twist on it and published it as the inauagural recipe for my future award-winning column, "Veganize It!" in VegNews, it quickly became their most popular recipe ever and they crowned it "The best Mac 'n Cheese on the planet. End of story."

Well, the story doesn't actually end there. Always one to raise the bar, two years later, our daughter began eating solid foods and I realized that the nutrition quotient could be greatly improved while keeping it just as delicious. Below is my original recipe, and the healthier, revised version (sans margarine and potatoes, plus a secret protein boost) appears in my cookbook, Comfortably Yum and a new version I recently created for The 12-Day Dairy Detox.

Allison's Famous Vegan Mac 'n Cheese Sauce
By Allison Rivers Samson
Serves 6
Ingredients
1/3 cup non-hydrogenated vegan margarine
2 tablespoons shallots, peeled and chopped
1 cup red or yellow potatoes, peeled and chopped
1/4 cup carrots, peeled and chopped
1/3 cup onion, peeled and chopped
1 cup water
1/4 cup raw cashews
2 teaspoons sea salt
1/4 teaspoon garlic, minced
1/4 teaspoon Dijon mustard
1 tablespoon lemon juice, freshly squeezed
1/4 teaspoon black pepper
1/8 teaspoon cayenne
1/4 teaspoon paprika
Directions
1. In a saucepan, add shallots, potatoes, carrots, onion, and water, and bring to a boil. Cover the pan and simmer for 15 minutes, or until vegetables are very soft.
2. In a blender, process the cashews, salt, garlic, margarine, mustard, lemon juice, black pepper, and cayenne. Add softened vegetables and cooking water to the blender and process until perfectly smooth.
Pro-tips
Once the vegan cheese sauce is made, it can be stored and then heated whenever you're ready to transform it into numerous comfort food dishes by:
Pouring over your favorite pasta for a quick vegan Mac 'n Cheese meal.

Drizzling onto broccoli for a nourishing side-dish (or entrée) of vegan Cheesy Broccoli.

Warming up to use for Grilled Cheese sandwiches!

Ladled onto baked potatoes for a yummy vegan Potato Boat.

© Recipe by Allison Rivers Samson, Self-care Coach, award-winning vegan chef and author of Quick + Easy DIY Salad Bar, The Dairy-Freedom Cookbook, Comfortably Yum, and Co-Founder of The Dairy Detox.
Photo credit: Nicole Axworthy